is a professional Middle Eastern dancer (bellydancer) in the Washington, DC metro area. She has studied a variety of dance styles, including Egyptian, Turkish, American, Lebanese, and Persian, as well as folkloric dances such as Hagallah, Sai'di, Ghawazee, Zar, debke, Turkish-Romany and Macedonian-Romany, among others. She is skilled at dancing with props, including cane (assaya), sword, veil, votive candles, and zills (sagat). Her dance studies have also included material on the cultural background of each dance, so as to learn the dance form in its appropriate social context.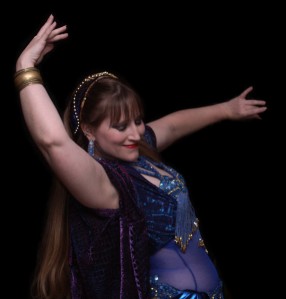 Photo by Roger Wood, 2004. Additional post-processing by Eryq.
Zareen's dance is highly expressive, moving fluidly between emotions. From playful and flirtatious to passionate and energetic, from introspective and elegant to sinuous and sensual, Zareen always strives to embody the music. She is noted for her excellent rapport with the audience and her vivacious and dynamic performances. In addition to traditional dance styles, she is also well-known for her unique comedic performances.
Zareen has studied extensively with such notable dancers as Artemis, Laurel Victoria Gray, Yasmin, Faten Salama, and Autumn Leah Ward, and furthers her education through regular attendance at seminars and workshops. She also brings her background in theater and other movement training to her dance. In addition, her love of textiles led her to costume design; she makes handmade and individually designed costumes and other textile art pieces.
Zareen has performed at restaurants, on the concert stage, at cultural events, on television, and at private parties: check this website for her upcoming performances. In her effort to bring top quality Middle Eastern dance to the Washington, DC area, she founded the Yalla! concert series and the quarterly Starlight Shimmy shows. Zareen also teaches Middle Eastern dance classes in the Washington, DC area. If you would like to receive email notices about upcoming performances and classes, please send an email to zareen@zareendances.com.
Zareen is available for performances and for teaching. Her performances are family-friendly and add a joyous element to any occasion. If you would like Zareen to perform at your event, please contact her!